You are now your own boss, working from your home. You can choose your clients and your work hours. Working from home has many benefits, but you must be careful not to pick up some bad habits.
Here is some useful advice on how to stay motivated, self-disciplined and good at your new job.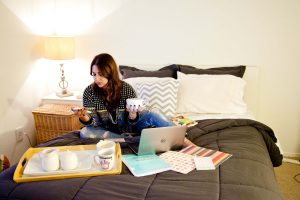 First, you must define your workspace.
You need to choose an area in your home that you will make into your workspace. Avoid working in the same room where you sleep or eat. You need to choose a place just for work. This is really important, because you need a place that will help you achieve the maximum focus.
Your workspace will be your office and both you and your roommates should treat it that way. It should be bright and cheerful, with a neat desk, a computer and a nice, comfortable chair. You can also add a cactus or some other plant, photos, or something else that will create a positive atmosphere.
Also, you need to designate a place for paperwork, notes, planner, cell phone and other business materials. Buy everything you need and keep your space organized.
After preparing your workspace, you need to create a schedule.
Set an alarm to wake you up at the same time every day, because having a routine is very important for developing work habits. So, when you wake up, take a shower, and start a day clean and fresh. You do not have to put on a suit, wear something comfortable, but do not stay in pyjamas all day.
After your first coffee, you should have some fixed time for work. So, once you have created your plan, make sure to stick with it and then when you finish, you can take the rest of the day off.
Use a calendar and a reminder to create a monthly work plan. Put tasks on a list, and finish the most urgent ones first. Set deadlines and try not to break them: you will notice how much more productive you have become. Set specific daily tasks that you can accomplish and stick to them.
If you have some less demanding duties like technology upgrades or billing, leave that for the afternoon, because it is the least productive time of day. Every day take some time to learn something new that can enhance your current skillset.
When you are working, get off your phone! Avoid internet and social media as well. Stop responding to every notification. Finish your tasks first.
Every now and then, you will need to take a break, but do not relax too much. Breaks should be from 15 to 30 minutes. You can eat something, take a nap, do some exercise or go for a walk…  It is very important to get out of the house. It's good for your health and it will clear your mind. You need to try to ensure your stress levels aren't getting in your way, so try to do regularly something that makes you happy, whether it is listening to music, physical activity, a cup of coffee, an ice-cream or a bite of chocolate.
When your workday is over, you should reward yourself for a job well done: spends time with loved ones, go out with friends, join a group or take a class on something that you've always found interesting. Working from home, without co-workers, can sometimes induce feelings of loneliness and isolation. In order to avoid such problems, you should not neglect your social life.
Remember: self-discipline is the key to success if you work from home.