If you are a freelancer or you do most of your work from home, the kind of software and hardware that you will need will depend on the kind of work you are doing, but in this article, we will go through some basics.
One of the benefits of working from home is that you won't need a lot of hardware. In general, working from home requires a good PC and a high-speed internet connection. If you are an online tutor, you will also need headphones with a mic. Add to that any other hardware you need depending on your field of expertise, and that's it!
When it comes to software, there are essential tools and additional tools that can be very useful. You will definitely need Microsoft Office or a fully compatible alternative, such as Open Office. A PDF reader is also an absolute must. Moreover, working from home can hardly be imagined without Google Apps, most importantly Gmail, Google Docs and Google Calendar. Dropbox is an extremely useful app that stores your data to the cloud with an intuitive drag-and-drop system. You will be able to access all your files from all your devices and easily share them via a link.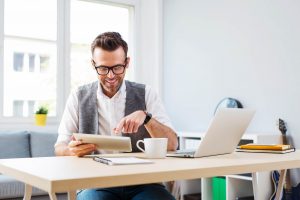 If you are a freelancer, you know how crucial time and task management skills are. Luckily, there are many cheap and free apps that can help you save time and become more organized.
First, you will need a time tracker. Of all the time tracking apps out there, our recommendations go to Toggl and Rescue Time. Rescue Time will let you track how you spend time on your computer so you can see if you are wasting too much time on something. Toggle lets you track how much time you spend on various tasks. Toggl is also great if you are working hourly for sending reports to your clients.
The second type of app that can make your life easier is software for managing tasks: we are talking about apps that let you create and organize your tasks lists. Some are more suitable for daily tasks, like Teux Deux, and some let you organize your tasks with others and set long-term plans, such as Asana and Trello.
There are also apps like BetterBuzzer, Remember the Milk and Oh Don't Forget, that let you send yourself reminders during the day on almost any device, making sure that you never forget what you need to do.
If you are working with others you will need a good team collaboration app, such as Slack. Whit this app, divided into channels, each for one specific task, you can quickly communicate with other team members about your tasks and share files.
You will also need a good bookkeeping software, like FreshBooks or Shoeboxed, for sending invoices to your clients and managing taxes.
This is just a tip of the iceberg, there are plenty of other great apps that can help you be more organized, productive and motivated!